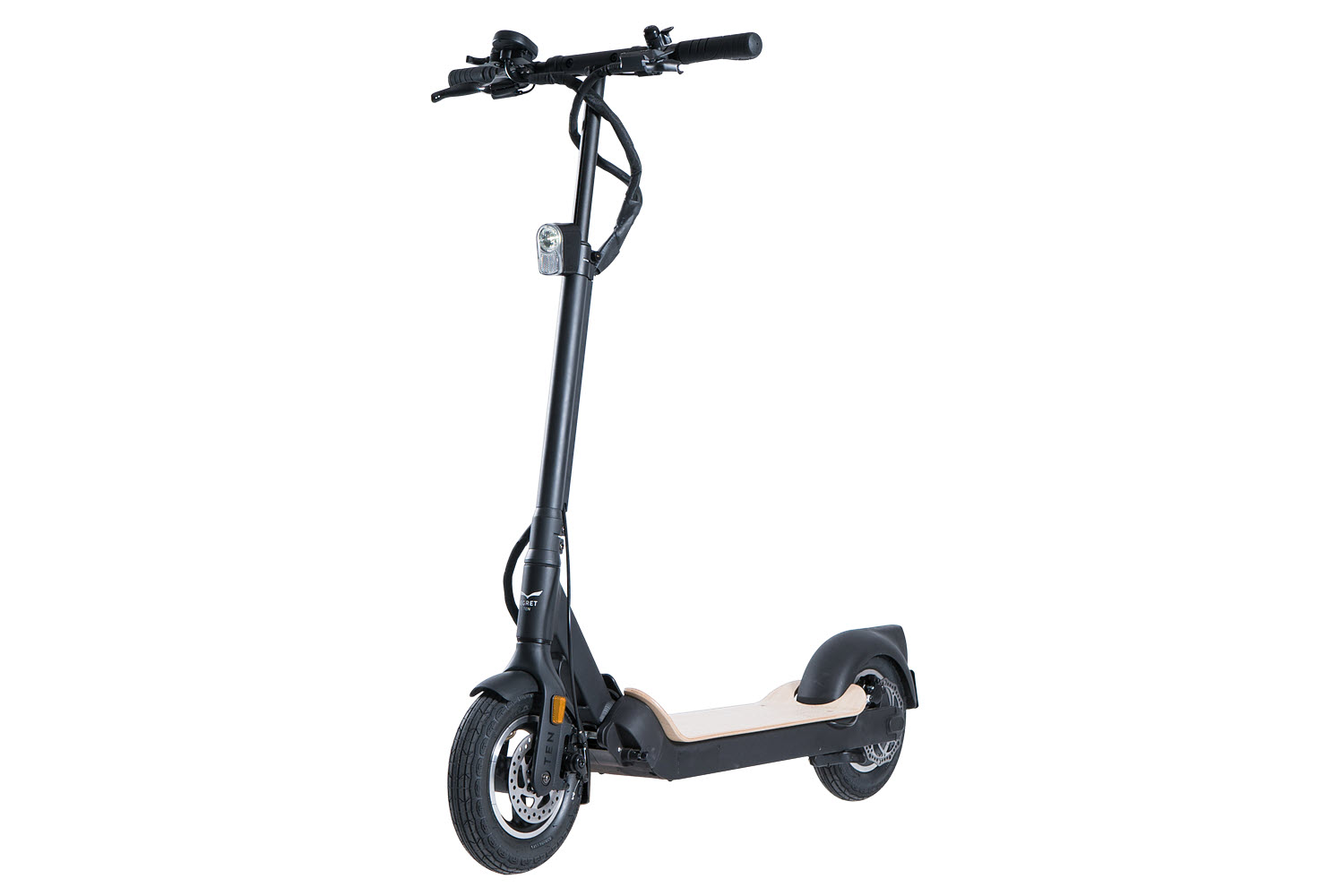 Available and at your place in 5 - 7 working days
Product information "EGRET-TEN V4"
Buy from the manufacturer directly: The EGRET-TEN V4 (street legal in Germany) is our best seller. This scooter combines first-class workmanship and greatest attention to detail with a compact weight of only 18 kg.
Ride comfort
Equipped with 10" air wheels this model offers a smooth and secure driving experience on pretty much every underground. The height of the handlebar can be adjusted according to the driver's height. The driver can select between five different speed levels and control the velocity using the index finger throttle. The maximum speed is 20 km/h. A wide deck provides enough space for the feet even on longer trips.
Engine
The continuous output of the motor is 500 watt, maximum rated output is 800 watt. This results in a lot of fun and a quick start at the traffic light. The EGRET-TEN V4 is the right model to conquer moderate inclines. The maximum range is 40 km.
For the battery (LI-ION, 48 V, 11.6 AH) we use cells from renowned manufacturers, including Samsung and Panasonic. The charging time for 100 % is 4 - 6 hours.
Safety
Two disk brakes (front and rear) offer a superior brake power with a good modulation.
The lighting system (certified according to the German regulation) has two benefits: One the one hand, the road ahead is properly lit and on the other hand, you are being seen by other road users.
The maximum payload is 100 kg.
Features
Folding the scooter is only a question of seconds. Due to the small pack size, it can be combined with public transportation or put into the trunk of a car. Unfolding the scooter is just as easy as folding it. The folding mechanism has been proven and tested, properly applied it is safe and reliable.
Further features are an improved cabel route and a rail to lock the scooter.
Service/Warranty
In case you need a new tyre or want to exchange the brake pads: No problem at all. Our warehouse is well stocked with spare parts and accessories. And if you are not sure, which part you need, our experienced service team is always happy to help.
We provide 24 months of warranty – including the battery (rental any company fleets excluded).
Technical Details
Speed:


max. 20 km/h


Range:


40 km*


Tires:


10″ inflatable tires


Payload:


max. 100 kg


Weight:


18 kg


Brake:


mech. disc brake front
hydraul. disc brake rear


Throttle:


Index finger throttle


Motor rated power:


500 W
800 W Peak


Battery:


LI-ION 48 V, 11.6 Ah


Charging time:


70 % in 2 h
100 % in 4 - 6 h


Size:


115 x 55,5 x 92 - 112 cm


Size folded:


105 x 18,5 x 38 cm


*The specified range is a maximum value. The range always depends on gradients, payload, ground conditions and driving style.
---
Bester Roller ever. Deutsche wert Arbeit. Mega
Ein qualitativ sehr hochwertiger E Scooter. Ich schaffe bei 70 kg ca. 45 km Laufleistung, das ist sehr viel für ein Scooter. Die Lenkstange ist höhenverstellbar, abklappbar und das wichtigste, auch arretierbar für den Transport/ Tragen. Super Bremsen und Beschleunigung. Die Reifen sind groß und geben ein sehr gutes Fahrgefühl da. Habe jetzt denn Egret Ten V4 seit ca.16 Monaten in meinem Besitz und schon ca.1900 km auf der Uhr. Bester Roller ever. Deutsche wert Arbeit. Guter Akku. Sehr Robust.
Hallo ihr lieben, die Interessiert sind nach einem richtig, geilen, flotten, unkomplizierten, zuverlässigen, Wetterunabhängigen Roller, der auch auf der Straße Rollern darf. Ich besitze nun seit einem Jahr den " Egret ten V4S ". Ich bin immer und immer gerne mit ihm Unterwegs. Auch durch den letzten Schneefall in den letzten Tagen, konnte ich mit ihm sehr gut und Sicher - durch den Schnee Düsen. Ich hatte es mir schwieriger vorgestellt, als es war. Der Kundenservice von Walberg ist Perfekt, einfach Anrufen - Fragen stellen. Hier wird man geholfen. Ersatzteile gibts hier im Shop. Kleine Sache: Die Externe Vorderlampe - geht nur mit vielen Batterien, das Nervt - die halten nicht lange,teuer und nicht der Umwelt - gerade wegen elektonischen Fortbewegungsmitteln, nicht Gerecht: gerade wenn man längere Touren hat... Aber - der Umwelt zu Liebe... habe ich mittlerweile eine Lösung gefunden, Lampe umgebaut - ohne dass ich Batterien nutzen muss.... Ich habe bisher mit dem Egret 10 V4, - fast 900KM hinter mir - Besitze ihn seit einem Jahr. Mein Frontlicht hat mich bisher noch nie im Stich gelassen,... ausser mal, wenn man über Stolpersteine Rollert... Da nutze ich einfach die 2 Sekunden, um den USB Stecker wieder in das Kontrollgerät wieder einzustecken... Der flutscht einfach raus. Aber nichts desto Trotz: Die Idee geht an den Hersteller: in den Kabelbaum direkt ein USB Kabel, mit einzubauen, oder einfach eine direkte Kabelverbindung von dem Akku zu der Lampe zu legen und diese Lampe mit Patent, mit einem USB Anschluss zu versehen. Dann wär alles Fein... Gerade bei dem Egret ten V4 LG DK
Ich habe ihn nichtmal aber alleine wegen dem Support lohnt es sich schon alleine die 5 Sterne zu geben, egal welche Frage oder sonstiges innerhalb von 2-3 Stunden wird man angerufen oder bekommt via e-mail direkt eine Antwort. Weiter so Leute!!!
Perfekt, hält was er verspricht, sehr robust.